Our Role
CAS Ladies' Auxiliary strives to perpetuate Judaism in the home, the synagogue, and the community. The Ladies' Auxiliary helps fund the synagogue library, manages the gift shop, maintains and supplies the Shul kitchen, and provides youth scholarships, among other areas of synagogue life.
Our Mission
The mission of the Ladies' Auxiliary of Congregation Ahavath Sholom is to promote in every way possible the welfare of the congregation and its religious school. We sponsor a variety of educational, cultural and social programs, which enrich our minds as well as create a sense of community. We have always been and will continue to be a source of strength to the congregation as the next generations of women join our ranks.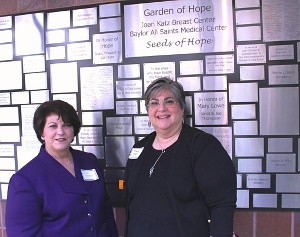 The CAS Ladies' Auxiliary was recognized for our donation to the Joan Katz Breast Center through the Glass Ribbon Project held in the Sukkah. Suzi Herman and Marla Owen attended the Donor Recognition Luncheon on behalf of the Ladies' Auxiliary.
Become a Member
Our yearly dues are just $35.00 and life membership is $350.00.